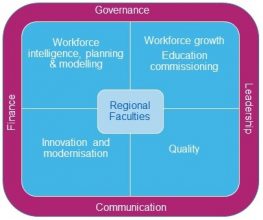 Workforce growth/ Education commissioning
The Faculty will secure growth in Advanced Practitioners through our commissioning plans. Supporting a mix of routes from the Masters Programme, the E-portfolio (Supported) route and module options.
Key areas of focus will be:
The readiness of organisations and services to integrate and support Advanced Practitioners and how the faculty can support them
Evidencing how Advancing Practice is an innovative solution to patient care delivery and service transformation
Supporting individuals that are currently working at an advanced level of practice who have not completed a Centre accredited programme to gain HEE Centre for Advancing Practice recognition of education and training equivalence
This will enable the Faculty to prioritise funding and align to ICS workforce priorities/transformation.
The Faculty will demonstrate financial accountability, value for money and equity of opportunity to advanced practice trainees.
Quality
The Faculty will ensure the quality of practice learning for advanced practitioners is fully understood and improved across the region. This will include trainees having access to high-quality recruitment, assessment and supervision.
Key areas of work are:
Supporting the Centre for Advancing Practice accreditation programme by working with our Higher Education Institutions to go through this process and also maintain the standards through annual review
Knowing all trainees including their assigned supervisor. Ensuring that the financial support for dedicated supervision time is being utilised.
Listening to the feedback from the yearly NETs survey and identify any improvements to be implemented
Specialist Training Programme Directors that

can support trainees with queries

develop projects to improve the trainee's experience

Developing a Best Practice guide for recruitment, supporting trainees and supervision
Workforce Planning, Modelling and Intelligence
The Faculty will support effective advanced practice workforce planning in the short and longer term, at system, regional and national levels, through timely access to accurate advanced practice workforce supply and demand data and intelligence.
Working closely with our internal workforce intelligence, workforce planning and data analyst teams to understand the current advancing practice workforce. Providing guidance to organisations to scope and cleanse their workforce data.
The long-term benefits to the Faculty and the region are that we will have:
Improved accuracy of supply projections for appropriate funding to be obtained
A clearer understanding of where in the system there could be growth of the advancing practice workforce
The ability to develop key materials to support the case for an Advanced Practitioner role
The ability to support the developments of the consultant level practitioner.
With accurate workforce data, the Faculty will be better informed and have the context to build the knowledge and wisdom to promote the value of the advancing practice workforce.
Innovation and Modernisation
The Faculty will optimise the impact of advanced practice through innovation and modernisation including:
Supporting the development and implementation of credentials
Identify future consultants
Modernising advancing practice programmes
Supporting the enhanced practice framework