Below you can read case studies from advanced practitioners across the region.
Charles Spencer – Advanced Clinical Practitioner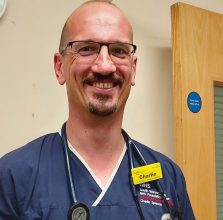 Charles Spencer works at South Warwickshire District General Hospital as part of a team of four general cardiology ACPs. You can read his case study which shows how he uses and demonstrates the four pillars in his work.
Call for Case Studies
If you're feeling inspired and want us to showcase your work as an advanced practitioner in your region, download a case study template and submit to england.apfac.midlands@nhs.net