The East of England Faculty for Advancing Practice was established in January 2021 with the aim of providing support and guidance to aspiring and current advanced practitioners, organisations, Sustainability and Transformation Partnerships (STPs) and Integrated Care Systems (ICS). We recognise the impact that advanced practitioners can have on workforce transformation, providing highly skilled care that can drive service redesign, enhance patient care, and improve outcomes. The function of our Faculty is to lead and promote advanced practitioners as part of national and regional workforce solutions and to enable practitioners to practice to their full potential.
Visit our regional updates page for up to date information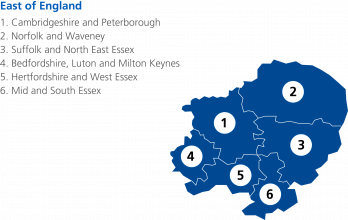 Current priorities
Ensure appropriate governance structures are in place for advanced practice across the region enabling safe and effective practice.
Develop a consistent approach in the development and implementation of advance practice roles and ensure a shared understanding of advanced practice and the 4 pillars that underpin this level of practice.
Review and develop the EoE comissioning framework for advanced practice.
Support current advanced practitioners to map against the new national standards, as set out by the multi-professional framework for advanced practice to enable accreditation via the Centre of Advancing Practice.
Identify trainee advanced practitioners and support their progression, irrespective of funding route.
Develop a regional directory of advanced practitioners to develop communities of practice, share best practice, relevant webinars and provide training opportunities.
Identify current supervision programmes in place and work with HEIs and healthcare organisations to ensure that high quality supervision is provided for all ACPs is in line with the new national standards.
Develop STP / ICS Advance Practice Faculties to ensure a greater understanding of the current and future workforce needs from a national and regional perspective. Identifying where to develop not only existing ACP roles, but also where the opportunities are to developed new ACP roles to improve workforce development and service innovation.
Work with HEIs to ensure they gain Advance Practice Programme accreditation via the centre.
Identify training demands and work with HEIs on course development.
Share and disseminate developments and information from the centre of advancing practice, and act as a conduit between the regional and national team.
Advanced practitioners offer multiple benefits to the health service and the population. They bring more holistic care to patients, support continuity of care and extend their scope of practice across traditional boundaries. This leads in turn to a greater focus on prevention, more personalised care, a more efficient team, a faster response to patient needs and better outcomes.

HEE ADVANCED PRACTICE, 2020
Advanced practice roles play a key part in the transformation and sustainability of the NHS workforce.

NHS England, 2020
Regional directory
If you wish to be added to the regional directory to receive up to date information on relevant training opportunities, newsletters and conference information please send your contact details to; EoEapfaculty@hee.nhs.uk
Regional Faculty Team
Katie Cooper, Regional Faculty Lead for Advancing Practice
katie.cooper@hee.nhs.uk
Amanda Gibson, Supervision and Assessment Lead
amanda.gibson@hee.nhs.uk
Kashka Richards, Project Manager
kashka.richards@hee.nhs.uk
Altaf Afridi, Project Support Officer
altaf.afridi@hee.nhs.uk
Mwenya Kasuba-Mhango, Programme Administrator
mwenya.kasuba-mhango@hee.nhs.uk
Faculty email address
EoEapfaculty@hee.nhs.uk
We also have multiple Training Programme Directors (TPDs) and Specialty Advisors who are also working with the faculty to lead and co-ordinate the development and training of advanced practitioners within various specialties.