The North East and Yorkshire (NE&Y) Faculty for Advancing Practice was established in January 2021, since then we have been building relationships and developing initiatives to highlight the value of the advanced practice workforce within our ICS systems. We have been working closely with our ICS colleagues ensuring we have a consistent approach to advanced practice across NE&Y.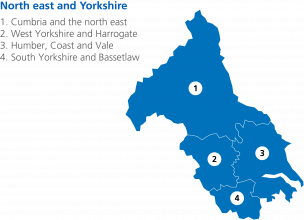 Meet the Team
Linda Crofts – Regional Faculty Lead
Linda Crofts is the Regional ACP Faculty Lead for NE&Y, a role she job shares with Julie Perrin. Linda trained as a nurse at the Royal Free Hospital in London in the 1980s and practiced in Operating theatre nursing and Emergency Care. Since then she has had a long career working in Professional and Practice Development, Higher Education and Learning and Development. This led her to develop a special interest in new roles, including Advanced Practitioners and in particular, the success factors in how these roles can make a difference in practice. She led the first workforce hub in an Integrated Care System bringing together the key elements for workforce redesign and transformation in one place to train, develop and support the workforce for the future.
Having left London 16 years ago she is now firmly settled in Yorkshire with her family though still returns for visits when she can. In her free time she can usually be found out on the Pennine Way listening to podcasts while walking her dog. She also enjoys spending time with family and friends, cooking, reading and failing to follow plot lines in TV dramas.
Julie Perrin – Regional Faculty Lead
Julie started in post as the NE&Y Regional Faculty Lead for Advancing Practice jointly with Linda Crofts in January 2021. Prior to this Julie was the Professional Lead for the South Yorkshire and Bassetlaw Faculty of Advanced Clinical Practice and was instrumental in the formation of the Faculty in 2015. Development of the Multi professional workforce, new roles and individuals has been a passion of Julie's since the early 2000's when working as the Consultant Nurse in Emergency Care in Sheffield, expanding the role of the practitioner and developing advanced practice within Emergency, Primary and Community care including the Ambulance service. Julie has taught at both Sheffield Hallam University on the Advancing Practice Masters programme and University of Sheffield Masters in Leadership in Emergency Care.
Julie has several publications and has undertaken part in quality reviews of hospitals in Jordan and Istanbul. Julie is looking forward to taking the Advancing Practice agenda forwards within NE& Yorkshire
Max Miah – Regional Programme Manager
Max is the Regional Programme Manager for the NE&Y Faculty supporting the Regional Faculty leads. Prior to this role Max was the Project Lead for New Roles across South Yorkshire & Bassetlaw ICS where he was responsible for the implementation of new roles such as Trainee Nursing Associates across Health and Social care organisations. Max has always been interested in workforce development across Health and Social Care and supporting other to develop their careers.
Asma Fareed – Programme Administrator
Asma is the Programme Administrator within the North East & Yorkshire Advancing Practice Faculty – assisting with a range of administrative tasks that support the smooth day to day operations of the team and to ensure the ACP programme is managed effectively. Asma joined the team in February 2021 with a background in recruitment, compliance and managing complex care patients. She is passionate about health and social care and ensuring the workforce of today and tomorrow meet patient needs and NHS values.
Contact us
You can get in touch with the North east and Yorkshire Regional Faculty via email – neyadvancedpractice@hee.nhs.uk