Welcome
The Faculty was established during the latter part of 2020 with recruitment into three main roles: Faculty Lead; Project Manager and a Supervision and Assessment Lead. The Faculty will include a number of other members who will have responsibility for a defined area of practice working with the Supervision and Assessment Lead.
The Faculty members are building relationships and developing initiatives to highlight the value of an advanced practice workforce within our systems and organisations and will provide regional leadership around the advanced practice national programme to drive change at a local level.
Click below for more information regarding funding:
Vision
The Faculty is focused on creating and enabling transformative partnerships to develop, embed and sustain Advanced Practitioners across the NW region who are fit for 21st century care and that appropriate use is made of their skills and expertise across an evolving health and social care system.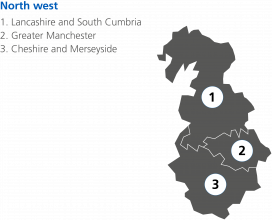 Mission
The Faculty for Advancing Practice across the North West will:
provide regional leadership around the advanced practice national programme to drive change at a local level,​
ensure quality education and training is delivered for advanced practitioners to enable them to be fit for 21st-century care, so that their skills and expertise address patient service priorities and the needs of diverse populations,
lead and promote advanced practitioners as part of workforce solutions that support service changes working with STPs/ ICSs to identify demand, commission and support the supervisory needs of learners,
provide greater connectivity across the health and social care system and across all relevant professions to improve the understanding, value and innovation that advancing practice roles can bring to deliver quality care and improve service provision for patients,
enable the continuum of multi-professional clinical career paths through advancing practice and beyond.
Key areas of work:
Development of the Faculty
The Faculty will be working with the Centre for Advancing Practice and the other regions to develop our strategy/plan. This will enable the members of the Faculty to connect with the health and social care system and education providers to ensure the work will drive forward advanced practitioners across the NW region.
The Faculty aims to have their full team by summer 2021.
Greater connectivity
If you would like to be kept informed and have access to opportunities to be part of the advance practice workforce transformation across the North West then please sign up to our database.
Email: acp.nw@hee.nhs.uk
Building networks
NW HEI Network: The Faculty will initiate a NW HEI Network, where the Advance Practice Programme can work collaboratively to drive transformation and innovation.
Cheshire and Merseyside, Greater Manchester, Lancashire and South Cumbria: We have started to undertake stakeholder mapping to identify what is already established within the system, to ensure we join up and share developments around advanced practice. The Faculty will also identify where there are not STP/ICS networks and forums and bring all programme and professions together for collaboration.
Webinars:
The Faculty is delivering a series of webinars. If you would like to view any of the webinars please click the links:
NW Advanced Practice Webinar – Employers
NW Advanced Practice Webinar – Trainee and Existing ACPs
NW Advance Practice Webinar – Mental Health
NW Advanced Practice Webinar – Pharmacy
NW Advanced Practice Webinar – Primary Care & Apprenticeships