Advanced practice is associated with a wide range of multi-professional backgrounds who work in advanced practice roles across numerous settings. Advanced practice is a level of practice, not a job title or role, that is designed to transform and modernise pathways of care, enabling the safe and effective sharing of skills across traditional professional boundaries for practitioners working directly with patients, carers, and families, who have responsibility for managing risk and uncertainty. Advanced practice is delivered by experienced and registered healthcare practitioners and is characterised by a high degree of autonomy and complex decision making (Health Education England, 2017).
This level of practice is underpinned by an advanced academic award or equivalent expert and autonomous experience that encompasses the four pillars: clinical practice, leadership and management, education and research, with demonstration of the core capabilities.
The Centre for Advancing Practice Research activities focus on the fourth pillar, encouraging, facilitating, and celebrating research in the advancing practice community.
Developing research of advanced practice
The Centre is developing research of advanced practice by bringing together like-minded a community of practitioners and researchers engaged in the field of advanced practice innovations with a remit for established researchers, novice researchers, and enabling advanced practitioners to progress into clinical academic roles as practitioner researchers.
The Centre for Advancing Practice convenes an annual conference which offers researchers and practitioners alike to showcase their activities in progressing advanced practice, either through presenting concurrent sessions or submitting research posters (the abstracts of which are subsequently published in the International Journal for Advancing Practice).
In collaboration with the Health Sciences School at the University of Sheffield the Centre participates in doctoral research peer support group for doctoral student researchers involved in research related to advanced practice and / or are advanced practitioners themselves.
International Journal for Advancing Practice
The International Journal for Advancing Practice, supported by the Centre for Advancing Practice, is a new, quarterly, multi-professional, peer-reviewed journal aimed at all those practicing and studying at an advanced practice and consultant level. It will provide all advanced and consultant practitioners, regardless of specialism, with a comprehensive evidenced-based resource that brings together the pillars of advanced practice: clinical practice; leadership and management; education; and research.
The journal publishes clinical reviews, research papers, service evaluations, commentaries, evidence / literature reviews, and editorials with open access options available. All articles are concise, fully referenced, presented in an easy-to-read format and peer-reviewed by some of the world's leading international authorities.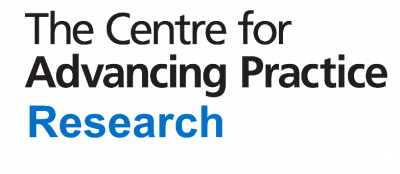 Published research journal papers related to advanced practice
Research of advanced practice innovations in progress  

Rome Wasn't Built in a Day – The Impact of Advanced Practitioners on Service Delivery and Patient Care in Greater Manchester Acton Shapiro consultancy and research: The University of York, Department of Health Sciences 

Advanced Practice Community/rehabilitation initiative Hertfordshire and West Essex ICB  

A qualitative study exploring prisoner-patient and prison officer experiences of access to healthcare in a prison setting to establish views on the accessibility and responsiveness of the healthcare provision. Sarah Jarvis (AP Practitioner) 

What is the potential need for advanced practice in the community? University of Bedfordshire 

Advanced Practice East of England Research Project  University of East Anglia 

HEI Credential Implementation University of East Anglia  

Lincolnshire System Rotational Advanced Clinical Practitioner Pilot Project University of Lincoln 

Longitudinal Cohort Study to Examine AP Impact in Workplace post either completion of HEE accredited AP MSc OR recognition through e-Portfolio (supported) route. How well does training prepare for AP working and what are ongoing CPD needs. University of Plymouth 

Evaluation of the Health Education England (HEE) South West Pilot of Supported Training for Emergency Care Advanced Clinical Practitioners (2019-2022) University of Sheffield 

Regional Equality, Diversity & Inclusion, Advanced Practice Project University of Suffolk