Join our Advanced Practice Mental Health Network
Posted by:
dpatel
-
Posted on: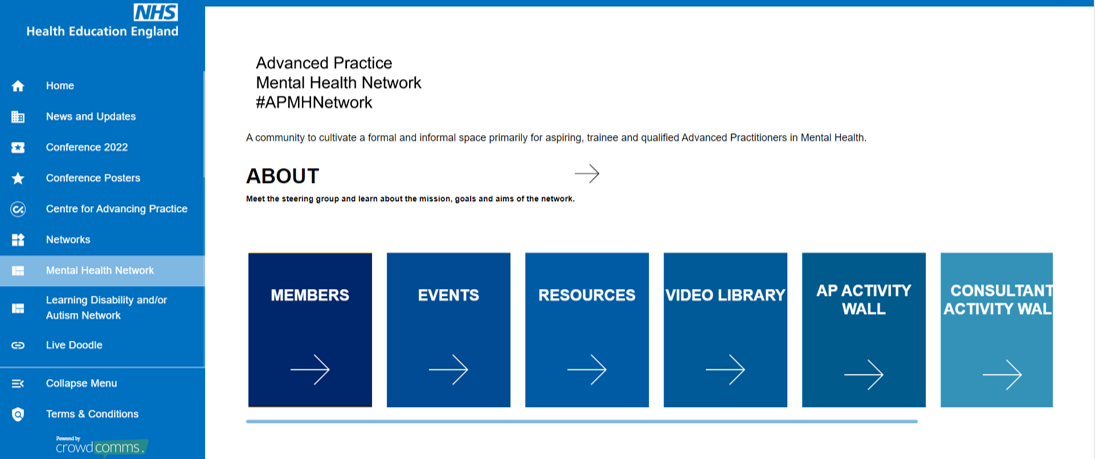 The Advanced Practice Mental Health Network is on the move after a successful pilot. Evaluation data shows the positive impact that members feel the Network offers; it is proving to be an invaluable resource to support one another, to reduce the isolation and loneliness that can sometimes come with advanced practitioner roles, and to help develop the future of advanced practice in mental health.
Feedback has included:
"…so helpful! I feel that I am not alone anymore. Thank you so much."

"Really supportive network! Helps reduce the feeling isolation, embracing the wider community!"

"An invaluable resource to support each other and the future of advancing practice."

Views from our members
The Network currently has nearly 600 members across England, and it offers a space to connect people aspiring to be, training to be or working as an advanced practitioner in mental health. Also welcome are those who support the development of the workforce including regional and national strategic leaders and MSc programme teams delivering the recently endorsed Advanced Practice Mental Health Curriculum and Capabilities Framework.
There are two main aspects to the Network. The first is a series of live, virtual events which include updates from HEE, a focused topic for discussion, breakout rooms for smaller networking opportunities and open sessions for members to share good practice. At recent events, new resources to support advanced practice in mental health were also launched including an Implementation Guide and a Myth-busting resource. Our members helped to develop the content and they will also be part of the subsequent review.
The second aspect is a virtual platform, accessible 24/7, where members can share their contact details e.g., in their region or specialty, post questions, share and access resources, contribute to discussion threads and network.
While you are there, you can:
Connect with other members from across England
Bookmark your place on our next two virtual, live events
Post a question, share your thoughts or respond to others on the activity wall
Browse the resources to help inform your practice
Facilitating the Network and being part of the Network are providing excellent opportunities for continuing professional development across all Four Pillars of Practice and helping to inform and support the development of Advanced Practice in Mental Health and we welcome all members!
If you do not have an account on our platform linked above, please complete our registration form.