Guiding Principles for Supervisor Learning and Development
This guidance sets out learning and development principles for practitioners who are supervising colleagues as they progress to advanced level practice. It should be considered in conjunction with Centre for Advancing Practice supervision guidance and minimum standards. The terms 'developing advanced practitioner' and 'trainee' are used in this guidance. In some practice contexts other terms may be preferred but the supervisor learning and development principles are still relevant.
There are seven fundamental considerations for the supervision of practitioners developing in the Centre for Advancing Practice workplace supervision guidance:
Practice context
Competence and capability
Multiple professional registrations
Individual learning plan
Professional development and transition
Integrated approach
Supervisor development
This is a guide for:
all health professionals who provide supervision for colleagues developing in advanced practice (trainees);
health care providers who have or plan to have trainee advanced practitioners as part of their workforce;
higher education institutions providing programmes of study for trainee advanced practitioners;
anyone seeking to develop training and development opportunities to support advanced practice supervisor learning and development.
The guide sets out:
the capabilities which support effective supervision for the development of advanced practice;
indicative professional development activities and content which support the development of supervisor capabilities;
guidance about ways in which supervisors can maintain and strengthen supervision capabilities.
What is supervision?
Supervision provides safe opportunities to share, explore and resolve practice uncertainties. It is:
the cornerstone of professional and public safety;
an integral part of healthcare for all levels of practice across the workforce;
focused on maintaining and promoting professional and public safety through continuous professional learning.
Registered health professionals are expected to understand the purpose of and engage in supervision and continuous professional development1. Employers also have responsibilities for ensuring adequate supervision and training for their employees.2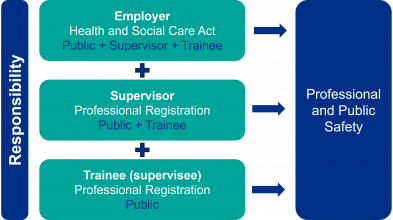 Supervision and assessment for advanced practice development
Developing as an advanced practitioner combines level 7 (master's) academic development with workplace development of advanced level capabilities. Capabilities are developed across four pillars of practice (clinical, education, leadership/management and research). Advanced practice development routes include successful completion of:
The Centre for Advancing Practice guidance for workplace supervision and accompanying minimum standards guidance recommend an integrated approach to supervision.
Those developing in advanced practice should have:
a named Coordinating Education Supervisor who supports the practitioner throughout the period of advanced practice development;
access to Associate Workplace Supervisors who support specified aspects of advanced level development across the pillars of practice (clinical, research, leadership/management, education).
Coordinating Education Supervisors and Associate Workplace Supervisors may also have responsibility for workplace assessment and verification of the trainee's advanced level capabilities.
What is different about advanced practice trainees?
Advanced practice roles have been part of the health workforce for some time. However, the role remains less familiar than many traditional health professions. The Multi-professional Framework for Advanced Clinical Practice in England established a shared understanding of:
advanced level practitioners;
how to deploy advanced practitioners to deliver better patient care.
Advanced practice trainees are experienced health practitioners from a variety of professions and professional registrations. As advanced practitioners, they remain registered in their original, qualifying profession.
Trainees may have different scopes of practice and prior experience. They will have different starting points in terms of current level of practice. For example, in a multi-professional cohort of nurses, physiotherapists, paramedics and pharmacists developing in advanced practice in emergency care, there may be:
nurse or paramedic colleagues who are already at advanced level in some aspects of wound care;
physiotherapists who are more advanced in musculoskeletal assessment;
pharmacists who are more advanced in polypharmacy considerations.
Each trainee will need an individual learning plan across the clinical, research, leadership/management and education pillars.
In any given cohort of trainees there will be similarities and differences in individual learning needs. These learning needs, need to be matched with appropriate levels of supervision. There will be aspects of advancing practice which necessitate closer direct supervision. The transition from a more traditional healthcare role to that of advanced practitioner can be accompanied by feelings of professional uncertainty3. Some of this uncertainty will be related to the ways in which prior experiences of supervision differ from the supervision which is required for safe development to an advanced level.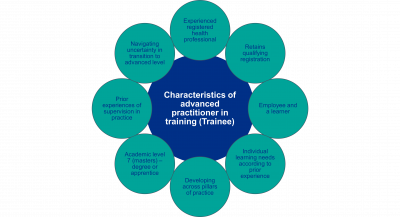 Being an effective advanced practice supervisor
Practitioners develop supervisor capabilities over the course of their careers in relation to a variety of supervisory roles and responsibilities. They continue to refresh and augment these capabilities by engaging in regular supervision-focused professional development. Effective advanced practice supervisors apply specific knowledge and understanding about advanced level practice development to augment their supervisor capabilities for the advanced practice context.
Dimensions of supervisor capability
There are dimensions of supervisor capability which are relevant for all supervisors in healthcare. These dimensions apply in varying ways according to the role and level of practice which the supervisor is supporting.
The dimensions of supervisor capability are: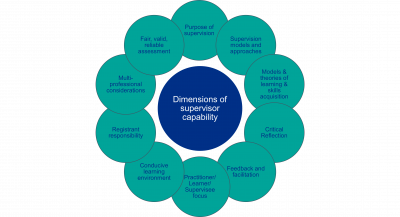 Effective and inclusive practitioner-focused supervision
Factors which contribute to effective supervision include a focus on the practitioner/learner/trainee or supervisee. This means recognising the ways in which personal factors can influence practice, learning and practitioner well-being. Areas of consideration include, but are not limited to:
Individual personal circumstances, including culture, identity and caring responsibilities,
individual learning needs, neurodiversity, preferences, facilitators and barriers.
Personal factors may be a crucial consideration in navigating and resolving practice and learning uncertainties. Effective supervisors create learning environments where supervisees feel safe to acknowledge and discuss personal factors which have implications for practice and or learning. Supervisors' own behaviours provide an important role model of inclusive values which in turn guide trainees to develop as culturally and inclusively competent practitioners.
Applying supervisor capabilities for advanced practice
Many practitioners supervising in advanced practice will have developed supervision knowledge, skills and behaviours in relation to other supervisory roles. Table 1 lists advanced practice supervisor capabilities for each dimension. Effective supervisors of advanced practice trainees develop supervisor capabilities by applying specific advanced practice knowledge and understanding of:
the trainee as an experienced registered professional who is augmenting existing capabilities to an advanced level;
the need to identify individual learning needs which support augmentation of existing capabilities to advanced level;
the need for advanced practice development across the pillars of practice;
relevant specialty curricula and area-specific credential specifications;
the importance of supporting and maintaining trainee well-being throughout the transition to advanced level practitioner;
the training pathway (MSc, apprenticeship) combining academic and workplace development;
higher education institution (university) requirements for assessment and progression at academic level 7 (master's level);
workforce and organisational considerations for the enabling of a conducive advanced practice learning environment.
Advanced practice supervisor capabilities
These capabilities should be considered in combination and not as discrete standalone capabilities. Click to enlarge.
Supervision as part of workforce planning
Workforce planning for advanced practice must consider trainees' supervision and what professional development supervisors may require from the outset. Organisations should consider how skill mix and experience across a team or practice setting can ensure adequate workplace support for advanced practice development across the pillars of practice. There are Centre for Advancing Practice supervision resources which provide guidance for this workforce and supervision planning:
employer's advance practice supervision action plan,
supervisor readiness checklist,
readiness to become an advanced practitioner,
minimum standards for supervision.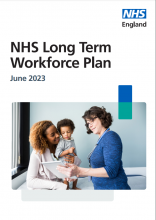 Identifying and supporting continuous professional development for supervisors will have benefits beyond the advanced practice workforce. Developing supervisor capability and capacity will be a key enabler for the delivery of the Long Term Workforce Plan. Supervision is a key aspect of the maintenance of workforce and public safety and employers should be able to evidence:
The advanced practice capabilities in Table 1 add to these existing resources and can help to:
identify which practitioners already have the recommended coordinating education supervisor or associate supervisor capabilities;
support decisions about investment in further development of supervisors in the workforce.
Employers and higher education institutions (universities) will use completed action plans and readiness checklists to identify supervisor learning and development needs. Checklists can also inform induction for supervisors about programme-specific supervision and assessment requirements. For the integrated degree apprenticeship, a signed agreement between the employer, apprentice and training provider sets out the trainee's on-the-job training and supervision arrangements.
Identifying and supporting continuous professional development for supervisors will have benefits beyond the advanced practice workforce. Supervision is a key aspect of the maintenance of workforce and public safety and employers should be able to evidence:
investment in supervisor development across all levels of practice;
continuing professional development of those with supervisory responsibility, for example, through review and inclusion of supervisor learning and development needs in appraisal objectives.
Developing effective supervision for advanced practice
Clinical capabilities develop over time, through a range of professional development activities, approaches to learning and practice experiences. The same applies to supervisor capabilities although supervisor development is not always regarded as a professional development priority. However, all registered practitioners providing and receiving supervision for any level of practice should be striving to acquire, evidence and maintain supervision knowledge, skills and behaviours.
Individual development of supervisor capability
Practitioners, even those with a wealth of experience supervising in other contexts, may express concern about providing effective supervision for advanced practice trainees.
As a registered professional there is a responsibility to work within your scope of practice. It can help to think about supervisor capabilities in the same way that practitioners think about clinical capabilities. Referring to another colleague or service, getting a second clinical opinion or updating and refreshing knowledge and skills, are familiar in clinical practice. The same applies for supervision. Practitioners can use the recommended capabilities in Table 1 to identify learning and development needs as a supervisor. Just as with clinical practice there will be areas the practitioner feels more or less secure about.
Identifying supervisor learning and development needs:
helps to inform when and whether the practitioner is best placed to supervise specific aspects of another practitioner's practice;
guides where to focus personal continuing professional development activity which will strengthen supervision;
does not prevent a practitioner supervising.
None of this is unique to advanced practice. It is applicable in all aspects of workplace supervision and safe practice in health care. Supervising in a less familiar context, such as advanced practice, can highlight less secure supervisor capabilities and knowledge gaps. The accompanying uncertainty can be a useful prompt to engage in some learning and development.
What to look for in supervisor development
There are many ways to support the development of supervisor capabilities. These range from short non-accredited courses to full post-graduate credit-bearing programmes, webinars, e-learning and learning sets. There will not be an 'off-the-peg' course which guarantees the practitioner will be an effective supervisor. Supervisor learning and development activities may address all or some of the areas of supervisor capability. Practitioners will be able to evidence capability from engagement in a variety of sources which may include:
short courses,
university modules with an educator and or supervisor focus,
e-learning,
medical Royal College accredited training,
webinars,
peer-review,
experiential learning,
supervisee feedback.
Supervisors, for all levels of practice, should:
have evidence of learning and development across the dimensions of supervisor capability as relevant;
maintain, refresh and augment supervisor capabilities through ongoing professional development activities;
document supervisor learning and development in their individual professional development portfolio;
have appraisal objectives which support ongoing professional development as a supervisor.
Indicative supervisor development
Indicative (not exhaustive or prescriptive) learning materials, activities and content related for supervisor development include:
Purpose of supervision
Definitions of supervision.
Relevant governance such as standards of proficiency for registered professionals and employer statutory responsibilities (see also registrant responsibility).
Supervision guidance, standards and requirements for specified curricula. Examples include, where relevant, Royal College of Emergency Medicine, Faculty of Intensive Care Medicine, Centre for Advancing Practice endorsed credential specifications, higher education institution (university) and apprenticeship standards.
The relationship between supervision and assessment in advanced practice.
The supervision and assessment of advanced practice development across the four pillars of practice, (clinical, research, education, leadership/management).
Supervision models and approaches
Models of supervision.
Modes of supervision: one-to-one, peer, group, remote.
The application of the above to workplace supervision of advanced practice.
Models and theories of learning and skills acquisition
Theoretical perspectives about learning and skills acquisition as applied to adult learners.
The application of theoretical perspectives to workplace supervision of advanced practice, including for example simulation for skills development.
Critical reflection
Approaches to critical reflection.
The use of critical reflection to support advanced level learning
Building on strengths, secure aspects of practice and prior learning and practice.
Feedback and facilitation
Communication skills.
Coaching.
Mentoring.
Negotiation and conflict resolution.
Supporting a trainee with or in difficulty.
A focus on the practitioner/learner/supervisee
Creating psychological safety.
Learning difference/neurodiversity.
Equality, diversity and inclusion.
Profession specific factors (see also multi-professional context).
Making and implementing reasonable adjustments.
Curriculum, credentials etc.
Developmental route.
Developing individual learning plans.
Seeing and addressing the person in the learner.
Supporting the practitioner to recognise uncertainty as a prompt to learn.
Building on practitioner's strengths and celebrating success.
Establishing a conducive learning environment
Registrant responsibility
Supervisor as a registrant.
Supervisee/trainee/learner as registrant.
Multi-professional considerations
Different registrations, prior experience, expectations of supervision.
Coaching skills to develop self-directed adult-learning.
Integrated multi-professional team culture for supervision.
Valid, fair, reliable assessment
Assessment methods for advanced practice trainees: higher education institution (university) requirements, specialty curriculum requirements.
Assessment techniques and assessments. Possible examples include Case Based Discussion, Clinical Evaluation Exercise (CEX), Mini Clinical Evaluation Exercise (Mini-CEX), Multi-source feedback, Clinical Observation Tools (COTs), Clinical Examination Procedures (CEPs).
Progression criteria.
Portfolio evidence.
It is not necessary or desirable to complete a learning and development activity which addresses all of this content in the same activity.
Maintaining supervisor capability
Registered professionals recognise their responsibility for continued engagement in lifelong learning as new theories and methods evolve. Just as clinical capabilities need renewal and refreshing, so too with supervisor capabilities. Professional development activities which support the maintenance and augmentation of supervisor capabilities include:
practice networks (Communities of Practice),
peer to peer assessment and discussion,
appraisal objectives with a supervision/educator focus,
360 assessment,
learning sets,
including supervision/educator evidence into a portfolio of ongoing continuous professional development4.
Resources
The Centre for Advancing Practice supervision resources include the guidance for workplace supervision, minimum standards and explanatory videos.
Footnotes