Programme Accreditation: Exception Reporting
The Centre's programme accreditation provides assurance to the wider system of the quality of Advanced Practice Education Programmes. Programmes map to the capabilities across the 4 pillars of the multi-professional framework for advanced clinical practice in England (MPF) and Standards for Education and Training (SET). Accreditation is now continuous, in that there is no specific date for renewal. Monitoring programmes post-accreditation has two phases; Accreditation Monitoring and Exception Reporting.
Accreditation Monitoring is generally around the 12 months after accreditation. Satisfactory monitoring moves a programme to Exception Reporting.
Overview of Exception Reporting
An exception is a programme change or quality issue that has the potential to impact on the continued ability of an accredited programme to map to the capabilities and standards across the 4 pillars of the MPF and/or the SET.
The term 'Exception Reporting' describes the approach that gathers information when there has been (clinical, regulatory and/or academic) changes to an accredited programme, or a quality concern has emerged. Exception reporting will establish a programme's continued ability to map to the MPF and SET.
A programme's ability
Figure 1 below describes an Education Provider's routes through the exception reporting processes and the potential outcomes.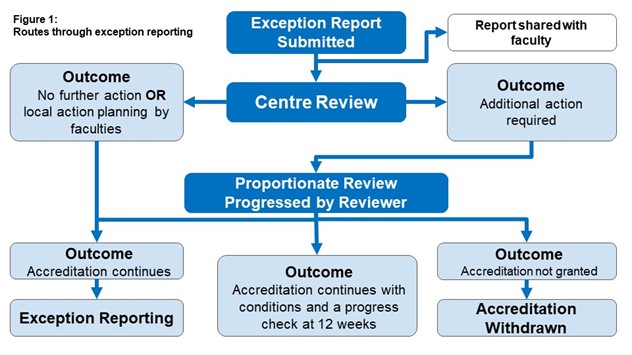 The Centre's approach is:
| | |
| --- | --- |
| Responsive | Proportionate action can be triggered during the Accreditation Monitoring phase and at any time, in response to an exception report or a quality concern. |
| Right Touch | The approach is flexible to respond to the nature or impact of programme changes or quality concerns. |
| Proportionate | Actions taken to address any mapping or quality concerns are proportionate to the level of assurance provided by the Education Provider that programme changes are managed well and do not adversely impact on the programmes quality or continued ability to map against the MPF and/or SET. |
Completing an Exception Report
Firstly, Exception Reporting is the responsibility of the Education Provider.
Secondly, during exception reporting, programmes should fill out a report if there are quality concerns and/or changes. This should reported straightaway or 'in real time,' wherever possible.
However, if Faculties have concerns they can submit an Exception Report.
If Education Providers or Regional Faculties are unsure if a programme change or quality issue is an exception, they can contact the Centre for further advice.
Another key point to note is that part of reviewing the Exception Report includes looking at previous reports to help determine if more action is necessary.
When no action is necessary, the program keeps its accreditation and continue with Exception Reporting.
When more action is required, Centre Reviewers will do a review. As a result they may ask the Educuation Provider:
To provide additional information
To undertake partial re-mapping or
To undertake full re-mapping
In these circumstances, accreditation would continue, pending the outcome of the review. The outcome of the review could be:
Accreditation continues and programme continues with exception reporting
Accreditation continues subject to conditions
Accreditation is not granted and is withdrawn
Examples of Exceptions
The image below provides examples of exceptions that can be in an Exception Report are highlighted. Any change or quality concern that can impact the programme's ability to map against the MPF and/or SET should be reported.
Educuation providers with changes to their programmes need to:
Describe the nature of the change
Describe the rationale for the change
Describe the impact on mapping to the MPF and/or SET
Describe actions that minimise impact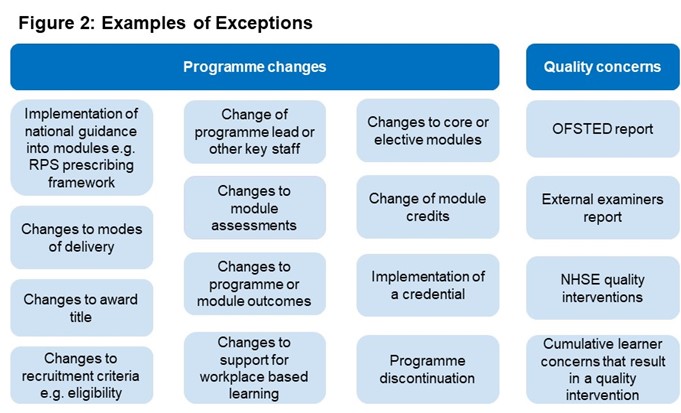 Supporting documents