Regional Update
Welcome to our third faculty update of 2022. We hope you have managed to stay cool during the summer and also have had opportunity to enjoy the good weather. We have continued working hard to promote advanced practice in the South West and ensure support for existing trainees and those starting their AP journey in the upcoming academic year.
---
2022-23 Annual Demand Scoping
We are pleased to share that we have completed the 2022 Advanced Practice Annual Demand Scoping & Funding application round, and would like to say a huge thank you to all the organisations and individuals who have taken the time to provide the information required during this process. From a Faculty perspective it has been another worthwhile undertaking, as we have been able to offer funding and support to a significant number of trainees across the South West, and expanded our reach into a greater number of organisations and scopes of practice. All of which is to be celebrated.
The outcome for 2022/23 is that we are now supporting 378 new SW AP trainees this coming year, as well as our ongoing support for those from 2021/22 who are continuing their MSc Advanced Practice programmes. These new numbers include our first ever AP MSc trainees in Learning Disabilities and Autism, as well as in Hospice care.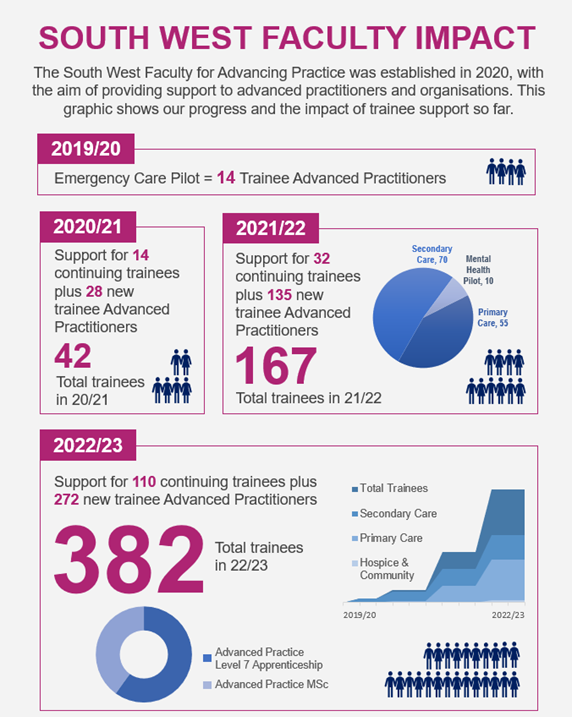 All new trainees and their supervisors have a Faculty Supervision and Assessment Lead, who are there to offer support on their journey to becoming a HEE recognised Advanced Practitioner. They may reach out to you via email, but if not please contact the Faculty who can pass on their details should you require any advice on AP training. This support continues to be available for those existing trainees who are continuing their Advanced Practice training journey this year. The Supervision and Assessment Leads are experienced clinicians within their scope of practice and will be there to provide clarity and guidance to both trainees and supervisors as required, whilst also continuing to develop networks and communities of practice across the region. The full list of our Supervision and Assessment Leads and the scope of practice each oversees is available of the South West Faculty for Advancing Practice's website.
The next annual demand scoping survey will open in February 2023 for 6 weeks to allow organisations to apply for funding for Advanced Practice trainees in 2023/24. Our Faculty's Workforce Transformation Lead will be in touch with Advanced Practice Leads or Nominated Individuals for organisations/training hubs and supporting them over the interim months. The requirements for eligibility will remain the same at present, and are outlined in our South West Faculty for Advancing Practice Scoping Handbook. Please be aware that the Handbook is constantly updated as this is a very dynamic and constantly evolving process so please do ensure that you review the requirements regularly as some may change over time.
---
Upcoming South West Event
We are delighted to announce that we will be running a South West Advanced Practice Radiography Virtual Study Day on the 19th October 2022.
Our fabulous speakers for the event include:
Professor Bev Snaith, Consultant Radiographer, Mid Yorkshire Hospitals NHS Trust, University of Bradford
Dr Karen Knapp, Chair of SoR Education Committee, Course Lead, University of Exeter
Tracey O Regan, SoR Professional Officer Clinical Imaging and Research
Martin Nelson, HEE SW AP Faculty Supervision and Assessment Lead for Radiography & Oncology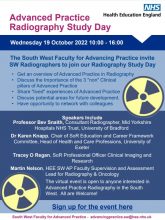 The day will aim to give an overview of Advanced Practice in Radiography, discuss the latest developments, talk about the importance of all four pillars, as well as giving attendees the opportunity to meet and network with colleagues.
The virtual study day is open to anyone interested in Advanced Practice Radiography in the South West.
All are welcome, so come and join us!
Further information and a link to sign up to the event can be found on our website
---
Faculty Podcast Series
Get your advanced practice fix with the latest in our Faculty podcast series!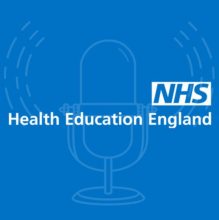 Listen as our faculty team chat to brilliant guests covering different important topics of relevance to advanced practice and it's continued development Nationally and here in SW.
You can now listen to two new podcasts from the South West Faculty.
Episode 5, Dealing with feelings of imposter syndrome: This episode of the HEE South West Advanced Practice podcast series explores the issues around feelings of imposter syndrome as are commonly experienced by advanced practitioners and advanced practice trainees. Participants discuss their own experiences and some of the strategies that can help to overcome it.
Episode 6, Frailty and Rehabilitation: This episode of the HEE South West Advanced Practice podcast series explores the opportunities and challenges surrounding advanced practice in frailty and rehabilitation and discusses topics such as entering the speciality, multi-professional working, credentials, and the separate but related role of the consultant practitioner.
All our faculty podcasts can be found here and are available on most major streaming platforms. Make sure you follow @NHSHEE_SWest on twitter to find out when the next episodes are released! 
---
Centre for Advancing Practice National News!
ePortfolio Route
The Centre for Advancing Practice has announced that funding has been secured for a second and third cohort of applications to the ePortfolio (supported) Route for equivalence recognition.
The Route has been designed to enable recognition by the HEE Centre for Advancing Practice of existing, experienced advanced practitioners, regularly working clinically in advanced practitioner roles, who may have completed their advanced practice experiential and educational learning before 2017 when HEE's Multi-professional framework for advanced clinical practice in England was published.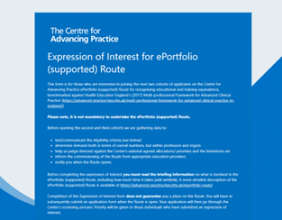 At this stage the Centre is gathering expressions of interest from individuals who believe they can demonstrate Level 7 experience across all 4 pillars of AP and are interested in being part of these second and third cohorts.
The data collected will help the HEE AP Centre to determine the demand for the Route going forward. Expressions of interest will close after 5pm on 28 September 2022.
Governance Matrix
We are pleased to announce that in July the Centre for Advancing Practice launched a governance matrix for advanced practice in health and care provider organisations.
Credible governance of the processes for developing and implementing advanced practice in health and care provider organisations is central to the safe, effective, and successful employment of advanced practitioners.
HEE have developed a maturity matrix which health and care organisations across all settings can use to formatively self-assess their progress in regard their governance of advanced practice against each domain. This can be periodically repeated to then indicate whether they are making early progress, substantial progress, or are mature in the governance of advanced practice within their organisation.
Minimum Standards for Advanced Practice Workplace Supervision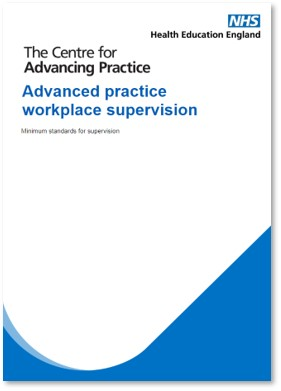 At the end of June, The Centre launched it's new guide to Advanced Practice workplace supervision.
High quality supervision for healthcare professionals moving into trainee advanced practice roles is essential for supporting the development of confidence and capability and underpins patient and practitioner safety.
This guidance for supervisors, managers, employers, and trainee advanced practitioners outlines The Centre for Advancing Practice minimum expected standards for supervision.
Access the supervision resources via our website
---
Acute Medicine Credential
Valentino Oriolo, HEE Supervision and Assessment Lead for Acute Internal Medicine.
We have some exciting news this quarter! The Acute Medicine Credential (AIM) has now been published and is available for download here. This framework will provide clarity for advanced practitioners seeking this specialty accreditation. It will also provide a platform to enable advanced practitioners in the medical subspecialties to work towards some of the Capabilities in Practice (CiP) that may be applicable to other disciplines, such as respiratory, cardiology and stroke.
---
One Gloucestershire Update: Development of the Shared Decision-Making Council for Advanced to Consultant Practice
Susie Durrell, MBE, MSc, BSc, FCSP Consultant Physiotherapist, MSK Advanced Practitioner Service, Gloucestershire Hospitals NHS Foundation Trust (GHFT), One Gloucestershire ICS Advanced Practice Lead
Gloucestershire is committed to workforce transformation through progressing our establishment of Advanced Practice (AP) and Non-Medical Consultant roles with credible governance. GHFT is one of 14 NHS hospitals in England supported by the Chief Nursing Officer for England to complete the Pathway to Excellence Programme ® as part of the national Shared Governance: Collective Leadership programme.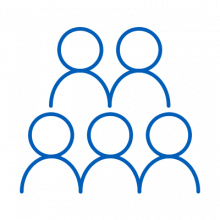 A Shared Decision-Making Council for Advanced to Consultant Practice was first established in September 2020. A key purpose is to advise the Trust on quality and safety management arrangements associated with advanced level practice, ensuring that robust processes are in place to safeguard the public and ensure safe practice. The Council has established its role with membership across professions, including trainees and established practitioners and University partners. Council developed and delivered a Trust Policy for Advanced Practice in September 2021. The Council successfully extended membership across One Gloucestershire from June 2022 to support a standardised approach and is working towards its ambition for system wide Policy adoption.
Shared professional decision making offers a collaborative, non-hierarchical approach to leadership which can empower nurses, midwives and allied health professionals to identify, listen, act and improve outcomes, experiences and use of resources across systems. It can help create and sustain a culture of excellence for colleagues wherever they work, whatever their role. The ICS AP Lead Role, supported by SW Faculty, and our One Gloucestershire Shared Decision-Making Council for Advanced to Consultant Practice combine to strengthen our opportunity to drive transformational change through collective leadership.

---
National Advanced Mental Health Community of Practice (AMHCOP)
Dr Stephanie Tempest PhD MSc PGCertTLHE BSc (Hons) MRCOT​
Credential Lead for Advanced Practice – Mental Health
Following the successful launch of the Advanced Mental Health Community of Practice (AMHCOP), the pilot has been extended to allow more time to nurture and cultivate it. Early evaluation data shows the positive impact that members feel the Community offers;
it is proving to be an invaluable resource to support each other, to reduce the isolation and loneliness that can sometimes come with advanced practitioner roles, and to help develop the future of advanced practice in mental health.
The Community currently has over 500 members across England, and it offers a space to connect people aspiring to be, training to be or working as an advanced practitioner in mental health.
"…so helpful! I feel that I am not alone anymore. Thank you so much."
"Really supportive network! Helps reduce the feeling isolation, embracing the wider community!"
Also welcome are those who support the development of the workforce including regional and national strategic leaders and MSc programme teams delivering the recently endorsed Advanced Practice Mental Health Curriculum and Capabilities Framework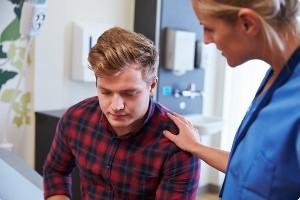 There are two main aspects to the AMHCOP. The first is a series of live, virtual events which include updates from HEE, a focused topic for discussion, breakout rooms for smaller networking opportunities and open sessions for members to share practice with each other. At recent events, new resources to support advanced practice in mental health were launched including an Implementation Guide and a Myth-busting resource. Members helped to develop the content and will be part of the subsequent review next year.
The second aspect is a virtual platform, accessible 24/7, where members can choose to be part of a directory so they can contact others e.g., in their region or specialty, post questions, share and access resources and contribute to discussion threads. As part of the ongoing evaluation, members have asked for increased interactivity and functionality with the Community platform and options are currently being explored.
To join the Community and book a place at the virtual events, please visit https://www.advancedmentalhealthcommunityofpractice.co.uk/. While you are there, you can post a question or add to a discussion on the Member Forum, or search the Member Directory for other people you want to connect with. You can also register for the live, virtual events on Tuesday 18th October, Wednesday 18th Jan and Thursday 30th March (all 9.15-12 noon).
"An invaluable resource to support each other and the future of advancing practice."
Facilitating the Community and being part of the Community are providing excellent opportunities for continuing professional development across all Four Pillars of Practice. We will be presenting more of our evaluation data, alongside our reflections on facilitating the Community, at the national Advancing Practice conference in November, so please join us there too.
---
South West Advancing Practice Trainee Handbook
The South West Faculty is committed to supporting Advanced Practice Trainees from across the South West Region.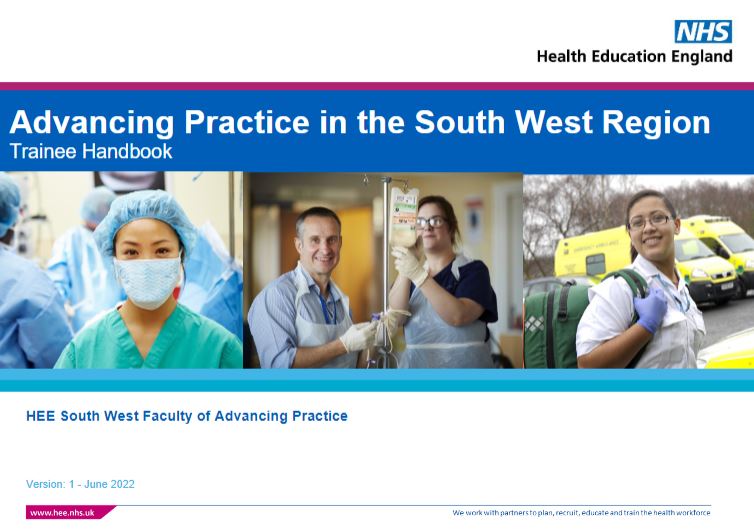 We are aware that training as an Advanced Practitioner requires a lot of dedication, determination and skill, and at some points trainees may need additional support and information. With this in mind, we have created a Trainee Handbook to offer information, guidance and support to all our trainees.
The handbook covers a range of subjects from HEE funding and support to trainee wellbeing. It's designed as a central question and answer resource trainees can use to help them navigate through their Advanced Practice training journey.
---
NETS
The National Education and Training Survey (NETS) is opening on the18th October and will close on 30th November. It is open to all health and care trainees and students across all clinical learning environments and offers AP trainees the opportunity to provide feedback on their clinical placements such as supervision, induction, support, etc.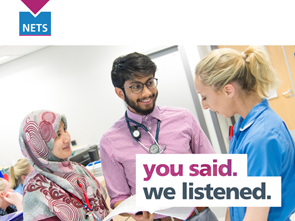 It is managed by Health Education England and is conducted annually. The survey is anonymous, and the results are analysed by HEE Quality teams to ensure all concerns are identified, reviewed and where appropriate, acted upon. The information forms part of HEE's approach to the monitoring of clinical placements and will be used to develop remedial action plans in partnership with education and placement providers.

Further information can be found on HEE national website, via this link.
If you are a trainee, please participate and give us your input on how to make clinical placements better for future trainees. If you know anyone on a training programme, please encourage them to provide feedback.
---
South West Advanced Practice Mailing List
Want to be kept up with the latest news from the South West Faculty?