Advanced Practitioner Case Study: Rachael Hosznyak – Urgent Advanced Clinical Practitioner
Rachael is an Advanced Clinical Practitioner within an Urgent Community Response service in Bristol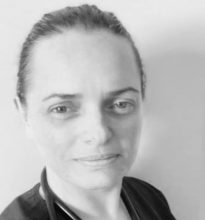 Throughout Rachael's career she had worked in various senior roles allowing her to focus in depth on just one or two pillars of practice. She became frustrated when she was unable to practice primarily as a clinician whilst also maintaining a level of practice and contribution across the remaining 3 pillars.
Then in 2017 she became aware of the concept of advanced practice and immediately recognised the potential of this role both personally, in order to develop and practice across all 4 of the pillars consecutively but also the potential as part of workforce solutions to meet population health needs.
Rachael started an MSc in Advanced Practice with Birmingham City University in 2017 and then apel'd her studies and moved to the University of West of England where she completed her MSc in 2020.
Since then she has spent time as an Advanced Practitioner in both general practice and community care.
Rachael currently works within an Urgent Community Response service, specialising in frailty and care of the older adult. The role includes responding to urgent 2hr callouts to clinically assess patients to try and avoid the need for hospital admission.
Her clinical skills as an advanced practitioner allow her to autonomously deal with any acute medical needs while utilising a Comprehensive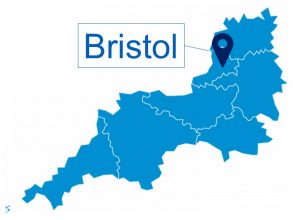 "It's reassuring to know there are advanced practitioners alongside you when working autonomously. When making your own clinical decisions in a patients home its helpful to be able to bounce ideas / clinical assessments off each other which in turn helps speed up diagnosis and treatment plans for the patient"
Senior Nurse
Geriatric Assessment model (CGA) in order to avoid hospital admission where appropriate, and deal holistically with the needs of the patient with a focus on aging well, rehabilitation, end of life, palliative needs and addressing frailty needs where possible.
Rachael provides clinical leadership within the community integrated network team to community clinicians across frailty, older adult, long term condition and rehabilitation services.
"As an Advanced Practitioner I am able to pull together my knowledge and experience across the 4 pillars and regularly use this to contribute to patient care and service delivery"
Rachael
She is responsible for meeting the training and development needs of clinicians within her areas of clinical practice and chairs an advanced practice staff forum within her organisation, mentoring junior and associate advanced practitioners. 
Rachael addresses associated audit and research workflow such as understanding service demand.
As an advanced practitioner Rachael is able to pull together all of her previous knowledge and experience across the 4 pillars and regularly use this to contribute to patient care and service delivery influencing the breadth of patient care from initial patient contact through to strategic regional and national workstreams.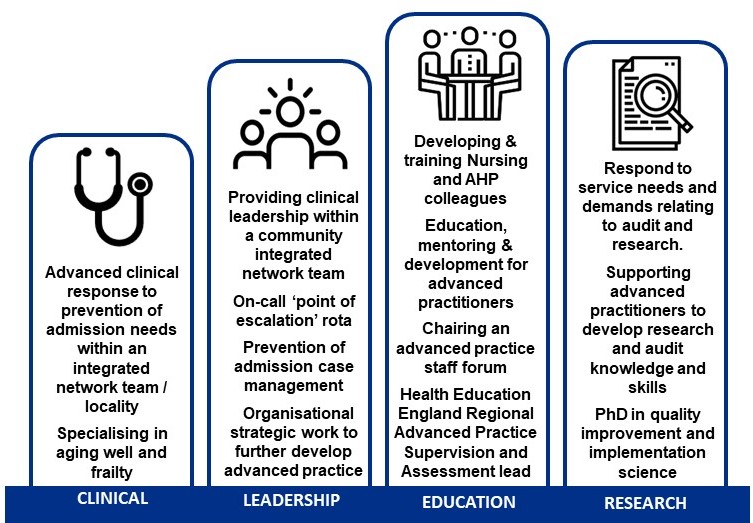 Rachael works at Level 7 across the four pillars of Advanced Practice