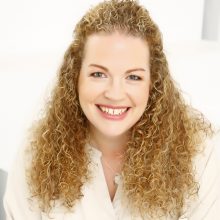 Alice is currently working as a trainee advanced practitioner in ophthalmology services at University Hospitals Plymouth NHS Foundation Trust. Alice is a registered nurse by professional background and holds many years of experience working in ophthalmology. We recently took some time out to speak to Alice to learn more about her role.
Why did you want to become an advanced practitioner?
Alice works at Level 7
across the four pillars
of advanced practice
Clinical
• Minor Ops service
• Lid surgery
• Glaucoma pressure
clinics
• Urgent care
practitioner
• Non-medical
prescribing
Leadership
• Role model to
nursing staff
• Managing student
nurses
• Updating department
standard operating
procedures
Education
• Support for medical
students and
junior doctors
Research
• Audits within
glaucoma pressure
clinics
• Audits for urgent
care telephone
phone/video
triage system
I chose to apply for a trainee advanced practice post as I wanted to remain in a clinical role.
This would utilise my existing experience and knowledge to improve patient care through the application of the four pillars of advanced practice. When this opportunity became available, I wasn't really sure what would be expected of me. Following research into the advanced practice role I realised that this would allow me an alternative career path rather than pursuing other career options such as a matron.
How does advanced practice benefit patient care?
I see patients with a variety of conditions that can affect the eyes, some are non-urgent, whilst others are emergencies. During the Covid-19 pandemic, I was able to change the way in which glaucoma patients accessed services; the aim behind this was to ensure that patients could still be assessed as required, but in a way that kept both the patients and staff safe. This allowed patients to be seen and a management plan created. We moved the services so that we were seeing patients either outside in the open air or in their car. This service has now moved back into the clinical setting.
I am also currently developing my skills and capabilities within minor eye surgery. This will support the service as we currently have a shortage of staff with appropriate skills who are able to manage these clinics.
How do you see your future as an advanced practitioner?
My role has an impact beyond just clinical care for patients, and I am currently reviewing and updating the standard operating procedures that are out of date to ensure that they are both relevant and in line with best practices, as well as creating new ones when required. This is to ensure high quality governance for the service and ensures patients are receiving the best treatment and care.
I am the first trainee advanced practitioner in ophthalmology at University Hospitals Plymouth NHS Foundation Trust which has meant we have been on a learning curve to develop this role and realise the potential benefits that this role can offer. I look forward to being part of this development and seeing more advanced practice roles emerge within ophthalmology. I think that for any aspiring advanced practitioners, my advice would be to pursue what you want to do and to plan your journey but research the role first so you understand what is involved in the role.
I have received positive feedback from both patients and colleagues. My consultant supervisor has said that having an advanced clinical practitioner in the clinic not only provides continuity within the department but enables him to focus on more complex patients whilst knowing that the clinic is still running well and being well managed.